INVOICE
It takes just a single click to create an invoice from your eLEDGER account, without the need for anything other than what you are using to read this.



With an Executive account you can have multiple invoices for each Order and you can create invoices with just payment terms and your bank account details, even if you haven't yet Received any payment. You can update details on your invoices such as your logo and contact information at any time, using your Control Panel.

You can be standing in front of your customer, with nothing but a smartphone in your hand, and instantly create your invoice. You can immediately email it off to them - or delete it, if it doesn't look right. You can send yourself a copy of that email, so you know what your customers are seeing and you can also download a copy for yourself, any time.
At the office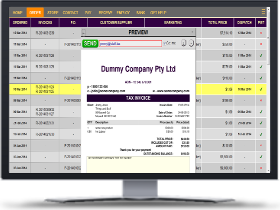 On the go